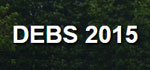 Tutorial will examine real-time streaming analytics patterns; DEBS Grand Challenge session will cover real-time application of continuous analytics on geospatial data streams with WSO2 CEP
Mountain View, CA – June 22, 2015 – At the 9TH ACM International Conference on Distributed Event-Based Systems (DEBS) 2015, WSO2 Vice President of Research Dr. Srinath Perera and WSO2 Technical Lead Sriskandarajah Suhothayan will jointly present:
"Patterns for Real-time Streaming Analytics" tutorial
"Continuous Analytics on Geospatial Data Streams with WSO2 Complex Event Processor" DEBS Grand Challenge session
WSO2 is a Gold Sponsor of DEBS 2015, which will run June 29 – July 3, 2015 at the Campus for Information Technology at the University of Oslo in Oslo, Norway.
Tutorial: Patterns for Real-time Streaming Analytics
The tutorial, "Patterns for Real-time Streaming Analytics," will run 9:00 a.m. – 12:20 p.m. on Monday, June 29, 2015 in Room 2452 (Pascal). Srinath and Sriskandarajah will begin by demonstrating how to implement different streaming analytics patterns. They then will discuss counting use cases and progress into complex patterns, such as using time windows, tracking objects, and detecting trends. Srinath and Sriskandarajah will support the discussion with examples of Apache Storm and complex event processing (CEP) based technologies.
Session: Continuous Analytics with WSO2 Complex Event Processor
Srinath and Sriskandarajah will present the paper, "Continuous Analytics on Geospatial Data Streams with WSO2 Complex Event Processor," at 1:40 – 3:40 p.m. on Tuesday, June 30, 2015 in the Simula Auditorium. The session is part of the DEBS Grand Challenge category, which showcases real-life, data-based event processing problems and solutions.
Together, Srinath and Sriskandarajah will review how the WSO2 Complex Event Processor (WSO2 CEP) engine was used to collect 173 million events from a New York taxi trip data set. They will first discuss how the WSO2 CEP engine identified the most meaningful events within the event cloud and analyzed their impact. Additionally, they will review how it acted in real-time—processing approximately 350,000 events per second with a mean latency of less than one millisecond for both queries. They then will present the results of the solution and discuss how it was optimized for maximum performance.
About the Presenters
Dr. Srinath Perera, WSO2 vice president of research, oversees the overall WSO2 platform architecture, where he specializes in Web services and distributed systems, specifically working with aspects of data, scale and performance. He is a co-founder of Apache Axis2, a member of the Apache Software Foundation (ASF) and the Apache Web Service Project Management Committee (PMC). In addition to numerous research papers, Srinath has published many peer-reviewed technical articles in Jax Magazine, IBM developerWorks, Developer.com, and O'REILLY OnJava.
Sriskandarajah Suhothayan is a technical lead at WSO2 and focuses on WSO2 Complex Event Processor. In addition to his product development efforts he has provided technology consulting on customer engagements, including customer QuickStart programs mainly focusing on SAP integration. He is a committer of the Apache software foundation where he has contributed to Apache PhotArk project and has also successfully finished two Google Summer of Code programs in 2010 and 2011 on Apache PhotArk and OpenMRS projects.
Integrated Open Source Approach to the Connected Business
The WSO2 booth at DEBS 2015 will have experts available to discuss the synergistic, integrated approach of WSO2's 100% open source platforms in addressing the technology demands of competing in a connected world, including the cloud, API management, the management and security of mobile and Internet of Things devices, big data analytics, and DevOps. Among the WSO2 solutions are products from the comprehensive WSO2 Carbon enterprise middleware platform, including support for real-time and batch analytics; WSO2 Private PaaS; WSO2 Cloud; and the WSO2 App Factory cloud-enabled DevOps platform.
Significantly, all WSO2 solutions are built on the same fully componentized, OSGI-compliant code base. As a result, developers can easily deploy and customize any of these WSO2 products and the 175-plus components on which they are comprised, providing greater flexibility and agility to meet changing enterprise demands. In addition to WSO2 cloud platforms, all WSO2 Carbon enterprise middleware products also are fully multitenant and cloud-ready. This means IT professionals can write an application once and deploy it on the same middleware on-premises, in the cloud, or in a hybrid environment.
About DEBS 2015
The ACM International Conference on Distributed Event-Based Systems (DEBS) aims to provide a forum dedicated to the dissemination of original research, discussion of practical insights, and reporting of experiences relevant to event-based computing. The conference also provides a forum for academia and industry to exchange ideas, for example, through industry papers and demo papers. For more information, visit http://www.debs2015.org.
About WSO2
WSO2 delivers on the promise of the connected business with the only completely integrated enterprise platform that enables businesses to build, integrate and manage their APIs, applications, and Web services on-premises, in the cloud, and on mobile devices. Leading enterprise customers worldwide rely on WSO2's award-winning 100% open source platform and its robust governance and DevOps functionality for their mission-critical applications. Today, these businesses represent nearly every sector: health, financial, retail, logistics, manufacturing, travel, technology, telecom and more. Visit https://wso2.com or check out the WSO2 community on the WSO2 Blog, Twitter, LinkedIn and Facebook..
Trademarks and registered trademarks are the properties of their respective owners.