[WSO2Con USA 2017] Building Platforms for Rapid Application Development
Designing, developing and deploying business capabilities and being able to go-to-market quickly gives businesses a competitive edge. With digital transformation, no company can any longer afford to differentiate between "business" and "IT". They have to become technology companies themselves because software plays a key role in becoming a digital business and is responsible for running the business. This introduces a broad set of challenges that range from technology acquisition to changes in mindset on how you approach and solve business problems.
This session will explore how to build a platform that allows rapid development of applications through quick prototyping and iterative improvements to application architecture. It also examines how WSO2 can help build such a platform and empower developers to create better customer experiences.
Presenter
Chintana Wilamuna,
Associate Director/Solutions Architect, WSO2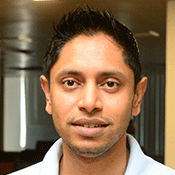 Chintana is a part of WSO2's solutions architecture team that provides consultancy to customers to help them identify technology requirements and implement various projects in key technology areas, ranging from integration, analytics, API management, and security. He has provided technology consulting on customer engagements including architectural guidance, integration of web services, print process automation and online management solutions. Chintana is also a committer on the Apache Stonehenge project.