[WSO2Con USA 2017] Driving Insights for Your Digital Business With Analytics
Archived Content
This content is provided for historical perspective only, and may not reflect current conditions. Please refer to the
WSO2 analytics
page for more up-to-date product information and resources.
We are at the dawn of digital businesses, that are reimagined to make the best use of digital technologies such as automation, analytics, cloud, and integration. These businesses are efficient, continuously optimizing, proactive, flexible and able to understand customers in detail. A key part of a digital business is analytics: the eyes and ears of the system that tracks and provides a detailed view on what was and what is and lets decision makers predict what will be.
This session will explore how the WSO2 analytics platform
Plays a role in your digital transformation journey
Collects and analyzes data through batch, real-time, interactive and predictive processing technologies
Lets you communicate the results through dashboards
Brings together all analytics technologies into a single platform and user experience
Presenter
Srinath Perera,
Vice President – Research, WSO2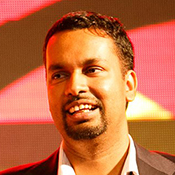 Srinath is a long-standing open source contributor. He is a co-founder of Apache Axis2 (open source Web Service engine), a member of the Apache Software foundation and a committer in Apache Geronimo (J2EE Engine) and Apache Airavata. He has extensive experience working with large-scale distributed systems and parallel computing and is a co-architect of WSO2's Complex Event Processing engine. Srinath has also authored two books about MapReduce.