Building Event Driven Systems
By

Mohamed Usama Mansoor

|

18 May, 2016
Building Event Driven Systems
Wednesday, May 18, 2016
09:00 AM - 09:30 AM (PDT) Enterprises interact and integrate with a multitude of internal and external systems. Specific business requirements require these business level integrations to be implemented in an event driven manner. Additionally, there are instances where event driven integration patterns are used to achieve certain operational goals.
This webinar aims to
Identify common event driven integration patterns
Illustrate how WSO2 middleware can be used to design them
Presenter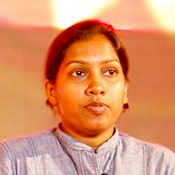 Shiro is an Architect in the Solutions Architecture team at WSO2. Prior to this she was mainly involved in the Cloud technical group at WSO2, specifically in the AppFactory and Private PaaS product teams. She has over 10 years of experience with a background in Telecommunication Billing Systems and Enterprise Search Systems which includes product design, product implementation and also liaising with external parties.