Troubleshooting and Best Practices with WSO2 Enterprise Integrator
Troubleshooting and Best Practices with WSO2 Enterprise Integrator WSO2 Enterprise Integrator is considered as one of the most robust integration solutions available in the market. Even though the product is designed to target failure-free operation (reliability) and resiliency, it is hard to expect a system to operate in a 100% stable manner all the time. There can be intermittent failures time to time due to various reasons like transient network failures and lack of resources. It is very important to understand how to troubleshoot when such issue happens. It's equally important to design, develop, test, and deploy WSO2 Enterprise Integrator by following best practices to obtain the optimum output and prevent possible issues in the production system.
This webinar will discuss how to troubleshoot an issue in WSO2 Enterprise Integrator and follow best practices in order to optimize output and avoid failure.
Presenter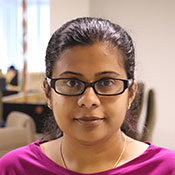 Chanika is part of WSO2 Enterprise Integrator team. She has been providing technology consulting on customer integration projects using WSO2 Enterprise Service Bus and WSO2 EI. Her interests are in Java EE Application Development, database-related technologies, and web services. She holds a BSc in Computer Science and Engineering from Department of Computer Science and Engineering, University of Moratuwa, Sri Lanka. She is Sun-Certified Java SE 5 Programmer and an Oracle-Certified Java EE 5 Web Component Developer.