How to Select the Right API Management SaaS for Your Enterprise
How to Select the Right API Management SaaS for Your Enterprise APIs have been in the technology canvas for nearly two decades now. Following their wide adoption, managing APIs has become a critical requirement. This has paved the way for off-the-shelf API management products. There are proprietary products, open-source products, and API management SaaS offerings in the API management market, which was estimated at $1.1 billion in 2018.
APIs are a fundamental building block of a digital enterprise. Many organizations are looking to adopt APIs. In the process of doing so, they have to decide on an API management solution to suit their requirements. Selecting such a vendor/solution is not easy owing to a large number of options in the market. This webinar will help organizations — particularly those that have made up their minds to offload API management requirements to a SaaS offering — to select a solution by evaluating the capabilities.
During this webinar, we will take you through 10 facts that you must consider when selecting an API management SaaS for your enterprise. We will bring some important points to your attention in the areas of:
Full lifecycle API management
API security
Pricing
Rebranding
Multi cloud / hybrid capabilities and much more
Who should attend:
Architects
Project managers
Tech leads
Presenter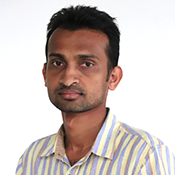 Amila is currently acting as the VP of Engineering, Integration at WSO2. Prior to taking up this role, Amila was responsible for leading the WSO2 Cloud team which hosts and maintains the public cloud offering of WSO2 which consists of an API Cloud and Integration Cloud. Amila has been working in WSO2 for 10 years and he has experience in cloud infrastructure technologies, customer success, maintenance and upgrades, SRE, and all other aspects related to hosting a cloud offering.