CASE STUDY
Amorepacific Successfully Deploys Customer-Centric Subscription Service With WSO2 Identity Server
HIGHLIGHTS
Increase
in KPI
index
Increase in KPI index for new registrations and churn rate
Improved customer engagement
Challenge
Amorepacific's consumer solutions serve as an inspiration because they recognize that people adopt technology to make life easier. The need arose for the organization to introduce a standardized integrated membership subscription service, through the establishment of an Omni-Channel membership subscription system to increase new signups online with an improved customer experience.
This endeavor required a solution that could apply an efficient and stable SSO service enabling customers to seamlessly sign up between the organization's multiple sales channels.
In order to digitally transform, Amorepacific needed to minimize data fragmentation through the unification of their previous 20 member subscription systems, established and operated by each brand channel.

Industry: Retail
Country: South Korea
About Amorepacific
From its inception, Amorepacific has existed to inspire and celebrate Asian beauty through its unparalleled blend of traditional Asian wisdom, pristine ingredients, and technological innovation to a global customer base. With over 70 years in the beauty and cosmetics industry, their products are formulated from the highest quality ingredients carefully, crafted to optimize beauty and health benefits.
Solution
After careful consideration WSO2 Identity Server 5.10 was selected as it guaranteed Amorepacific with the high performance to cope with increased access volume while serving as a foundation for scale-up architecture solutions to be deployed on AWS to expand system capacity. Pharosinfo served as the value added reseller liaising with WSO2 and Amorepacific while assisting with the final product implementation.
WSO2 Identity Server 5.10 successfully provided Amorepacific simple authentication methods for enterprise Omnichannel SSO logins to be used on the website and mobile applications. The unique open-source business model that is followed, allowed Amorepacific to trial the latest version of WSO2 Identity Server prior to purchase allowing for full functionality and performance testing.
The product is designed to expand functions according to business requirements without vendor lock-in with the added benefit of allowing a self-developed integrated membership service in line with internal business processes to be deployed.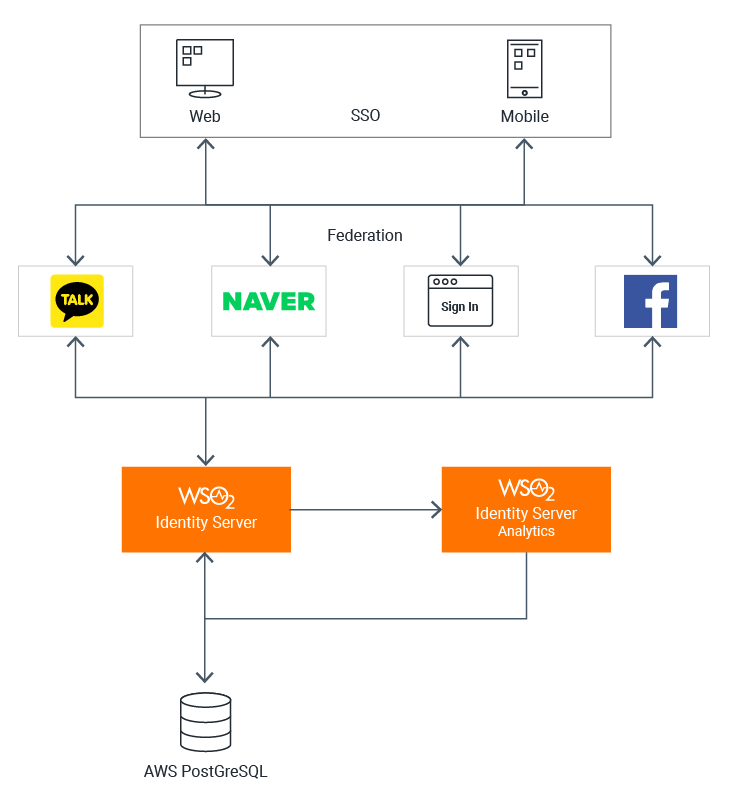 RESULTS
With the deployment of WSO2 Identity Server 5.10, Amorepacific has seen the adoption of various simple authentication methods such as Kakao, Naver, Facebook, and mobile authentication. This has also resulted in improved user flow between the main brand interface and apps through the OIDC-based SSO authentication system.
Amorepacific is now able to easily generate login-related analysis reports through Identity Analytics. The company has seen a marked increase in new customer registrations by lowering the login hurdles and providing the customer with an improved digital experience.
With the timely implementation and an experienced and agile support team (WSO2 Support) providing prompt technical support, Amorepacific has successfully achieved an increased KPI index in both new subscriptions and churn rate.
We chose WSO2 Identity Server because of its ability to quickly extend product functions without vendor lock-in and the ability to test the product's performance and functionality before purchase. We are extremely satisfied with the assistance given during the development and implementation phases, as well as the timely ongoing technical support provided. By effectively lowering the login barriers, the solution has provided us with increased customer inflow and customer satisfaction."
Mr. Yoo Chang-Hyun (Senior Manager - Amorepacific Omni Channel platform team)
Our Products
The #1 open source hybrid API Management platform
An API-centric, cloud-native, and distributed integration platform
Open Source Identity & Access Management for Agile Businesses
What are your enterprise challenges?
We can help!