Making data driven operational intelligence for your enterprise easy
Enterprises today are leveraging vast data resources. Why should only the NSA have the leg up on intelligence? If you can't beat 'em, join 'em!
WSO2 gives you a complete pre-integrated solution for all your big data needs. This saves you valuable time in getting up and going, as well as giving you the most comprehensive solution capable of scaling from small to almost unlimited data gathering and analysis problems.
The platform allows you to gather, analyze, visualize and take action from all sources of data and operational intelligence - be it internal or external, real-time or batch.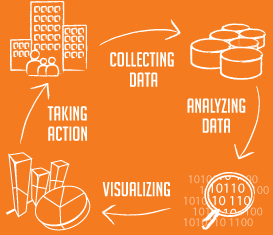 Request Demo
Intelligence Gathering
WSO2 provides the capability to capture raw data from almost any source you need to make more intelligent analysis and decisions of your activity as well as those of your customers.
WSO2 Business Activity Monitor (WSO2 BAM) and WSO2 Complex Event Processor (WSO2 CEP) can capture data from any application, API or source, including file-based data. WSO2 has lightweight agents to provide raw data from numerous sources as well as support for lightweight gateways and proxies for APIs, data import for file based data or almost any other source
WSO2 Data Services Server can front almost all databases or NoSQL databases and provide raw data gathering services
WSO2 Enterprise Mobility Management (WSO2 EMM) provide mobility monitoring, allowing you to capture information about mobile application and mobile device usage
WSO2 Social Media Adapters allow you to collect data from major social media sites

Intelligence Analyzing
WSO2 enables the seamless combination of real-time (within milliseconds) and batch data analysis to optimize the usage of all operational data. With WSO2 BAM and WSO2 CEP you can
Calculate KPIs, averages, and other statistical analysis
Find trends and incidents in complex event sequences with ultra-fast performance in real-time.
Scale to nearly infinite size data and any number of analyses
Replay time and try different analyses to detect key sequences

Visualizing Intelligence
Visualize raw data or processed intelligence with various tools. With Jaggery and WSO2 User Engagement Server you can
Present the raw data and analysis, monitor the business processes quickly
Configure mashups, graphs, heat-maps that show you both historical data and real time data interactively.
Initiate business processes and monitor business processes from dashboards you create.

Taking Action
The WSO2 platform gives you the complete solution to take action from the intelligence you gather. Using WSO2 CEP, WSO2 BAM, and WSO2 Business Process Server you can
Trigger complex actions from any analysis short-circuits, quick action hits, liquidations, defcon alerts, escalation policies and offer solutions your customers can't refuse.
Monitor progress of actions
Understanding the results of actions and success factors.
WSO2 Big Data Analytics Platform for Your Enterprise

The WSO2 Big Data Analytics Platform consists of these integrated components:
Data Collection:


Collect data from files, streams, Java or other processes
Collect data from databases SQL or NoSQL
Collect data on mobile applications and device usage

Social Media and other Adapters

Collect data from external sources
Collect data on API or services usage in your enterprise or outside your enterprise
Data Storage:


Store in SQL or non-SQL databases
Analysis:
Real-time event and batch analysis
Real time complex time-based event sequence detection
Visualization:
Mashups, gadgets, scripting language and tools to visualize and interact with data
Taking Action:
Create complex action processes with or without humans to be triggered automatically or manually when events dictate
Simple event based actions