Benefits of a Multi Regional API Management Solution for a Global Enterprise
Benefits of a Multi Regional API Management Solution for a Global Enterprise
Thursday, August 03, 2017
09:00 AM - 10:00 AM (PDT) As a globally dispersed enterprise it is critical to deploy your API's in a multi-regional setup to improve regional performance as well as to avoid environmental instability due to network latencies across geographic locations. The WSO2 API Manager supports multi-region deployments which enables organizations to deploy an API management solution across many regions.
This webinar will discuss the complete architecture and the aspects you need to consider when deploying API's regionally, such as:
Regional Gateway architecture on the WSO2 API Cloud
Multi Region Deployment Patterns
Hot Deploy/Undeploy APIs across regions
Metadata synchronization across regions
Rate Limiting/Traffic routing
Presenter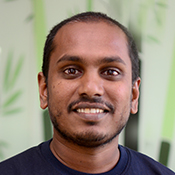 In addition to his role at WSO2, Lakmal takes on the role of Vice President of Apache Stratos. He focuses on the Cloud strategy and scalability of WSO2 products. In 2005, Lakmal co-founded thinkCube, the pioneers in developing the next generation of collaborative cloud computing products that are tailored towards telecom operators. He oversaw the overall engineering process, giving special attention to scalability and service delivery of thinkCube solutions. He has presented at numerous events including ApacheCon, CloudOpen, QCon, JaxLondon, CloudExpo, KubeCon, Cloudstack Collaboration Conference, WSO2Con and many tech meetups.