2017 Year-End Webinar: Another Year of Digital Transformation - Learning Through Reflection
2017 Year-End Webinar
Another Year of Digital Transformation - Learning Through Reflection
Tuesday, November 21, 2017 2017 was yet another successful year for WSO2. We added a record number of new clients who have partnered with us to fulfill their digital journey. We are excited and humbled by what these enterprises have accomplished in terms of becoming more digital native and offering digital experiences to their end-users. These efforts spanned various business domains, such as finance, healthcare, retail, education, and government, among others. While providing cutting-edge technology to build digital platforms, WSO2 helped these enterprises to evolve business models, focus on customer experiences, and optimize operations.
During this webinar, Asanka Abeysinghe, vice president of solutions architecture, will share his experiences on a few digital transformation projects that WSO2 was involved in and successfully implemented during this year. He will focus on the business architecture and improved digital experience of consumers, digital reference architecture of these projects, and WSO2's involvement as technology partner. In addition, Asanka will discuss the challenges faced and best practices incorporated throughout each initiative.
Presenter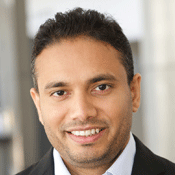 Asanka spearheads the company's customer facing technical tasks and oversees the solution architecture and technical sales functions. He also provides consulting to key WSO2 customers and conducts workshops specifically targeted at enterprise architects and technical managers. Asanka has over 15 years of industry experience, which include implementing projects ranging from desktop and web applications through to highly scalable distributed systems and SOAs in the financial domain, mobile platforms, and business integration solutions.