The WSO2 Enterprise Store was created out of necessity for our products. We no longer believe it is well suited for others to use directly, and as such it will no longer be available for download. It remains a key component of several of our other products, but only as a component and not a standalone product.
If you are currently using WSO2 Enterprise Store as a standalone product please contact us
We will of course support it as needed or help you migrate to the right higher level product.
Organizations generate large volumes of assets. Business units distributed geographically and functionally often duplicate overlapping assets. These overlaps cause wastages in capital and time for enterprises. For this reason, the enterprise store is finding its place at the centre of a connected business as an efficient tool to discover, manage lifecycle states and monetize enterprise assets.
WSO2 Enterprise Store (WSO2 ES) is your user-friendly introduction to the limitless possibilities of employing an enterprise store for fully federated enterprise asset management. Development teams and business users alike can easily and rapidly discover, subscribe to, and utilize any digital enterprise asset to increase productivity and efficiency of an organization. With features such as customizable views of asset lifecycles and usage statistics, and the ability to change and manage each asset lifecycle, WSO2 ES is a very flexible and powerful platform to provision and manage digital assets. It is backed by the award winning WSO2 Carbon middleware stack, which provides enterprise grade identity management and stability.
Capabilities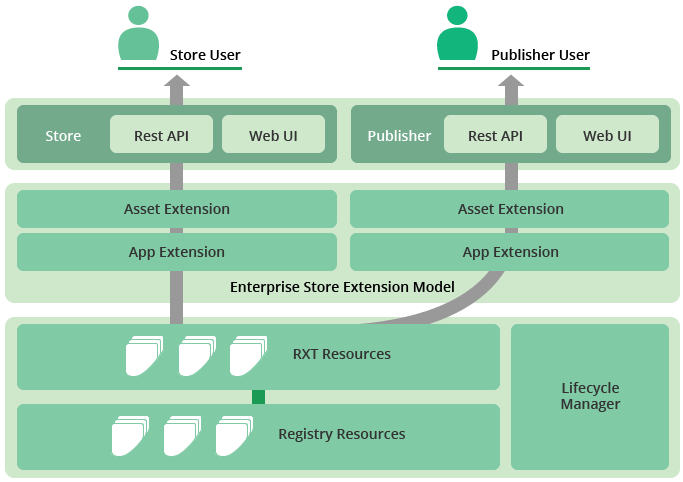 Two Components, One Store
A powerful combination of storefront and publisher components make up WSO2 Enterprise Store.The multi-tenant storefront increases the visibility of artifacts and enables attribute-based and faceted search functionality to easily discover assets. The publisher allows users to maintain versioning and manage asset lifecycles from creation to retirement.
Social Ready and Future-Proof
The store is envisioned at the centre of a connected business and WSO2 Enterprise Store delivers by supporting unlimited custom asset types and action types. It is also embedded with social rating, commenting and reviewing functionalities to facilitate social interactions among users.
Managed, Monitored and Governed
WSO2 Enterprise Store provides an interface suited for both development teams and business users with multi-tenant asset lifecycle management via a graphical interface and integrated role-based access control and governance.
Extensible Modules
The 100% open source WSO2 platform and products combine seamlessly with WSO2 Enterprise Store to allow highly performant scalability. It further leverages inbuilt RESTful APIs to power its UI, so that external clients too can utilize Store and Publisher services. It also supports single sign on using external identity providers.
Features
Plug-in Any Type of Digital Asset
Extension mechanisms to add new asset types such as APIs, Web apps, mobile apps, and services - all in one store
Increased flexibility with extension model enabling app-level and asset-level customizations
Custom lifecycles for specific asset types
Customize the subscription process relevant to the particular asset type such as download an eBook, subscribe to an API and install a mobile app
Customize views of each asset type based on required preferences
WSO2 Enterprise Store comes pre-loaded with provision for gadgets, websites with extensions available for apps and REST and SOAP services
Customizable Storefront
Improved usability with revamped store and publisher UIs and added functionalities such as Role-Based Access-Control (RBAC)
Responsive UIs portable on any device such as tablets
Home page displays for all asset types
Navigation menu for all asset types
Search based on each asset's custom attributes, tags and/or categories
Faceted search which allows the user to refine the search results using category
Define taxonomies to classify assets in a hierarchical manner
Sort assets based on rating, name and/or date created
Individual page per asset with comments, rating, tags and other details of the asset for easy reference
Personalized 'My Items' corner to display subscribed assets
Customizable Publisher
Easily add new assets for a given asset type
Asset type based view to manage each asset type as a group
Graphical view of the entire lifecycle of an asset
Manage the lifecycle of any asset
Role based interactions to review and publish assets
Historical views of asset lifecycle updates
View of usage statistics of assets
Connect and Scale
Connect to enterprise user stores to provide access to existing user bases
Single-Sign on for Storefront and Publisher
Clustered deployment for high availability and scalability