What is Adaptive Authentication?
Identity and access management (IAM) is the efficient integration and management of identities, giving users access to the right resources at the right time. It is no longer a mere security project for enterprises, as the integration and secure governance of APIs are more important than ever before. Security has become a big challenge for identity architects and administrators due to increasing user identity spaces, company-wide policies, complex structure hierarchies and roles, regulatory pressures, and customer facing applications.
IAM has its challenges too. User access management, application, containers, microservices, and integration spaces have grown in complexity and become more decentralized. As a result, complexities arise for identity silos, securing an increasing number of APIs and endpoints, account management, user password maintenance, regulatory compliance (such as GDPR and CCPA), and licensing and software costs when implementing IAM solutions.
In this scenario, an open source IAM provider such as WSO2 Identity Server helps to meet these challenges. WSO2 Identity Server aims to address both API and user domains while providing an enhanced user experience as part of WSO2's Integration Agile Platform. It's a highly extensible IAM product, designed to secure APIs and microservices and enable Customer Identity and Access Management (CIAM). Other key features include identity federation, SSO, strong and adaptive authentication, and privacy compliance. WSO2 Identity Server is a single solution for common identity requirements, in contrast to most identity platforms.
This white paper explores how you can leverage adaptive authentication to maintain the perfect balance between user experience and security.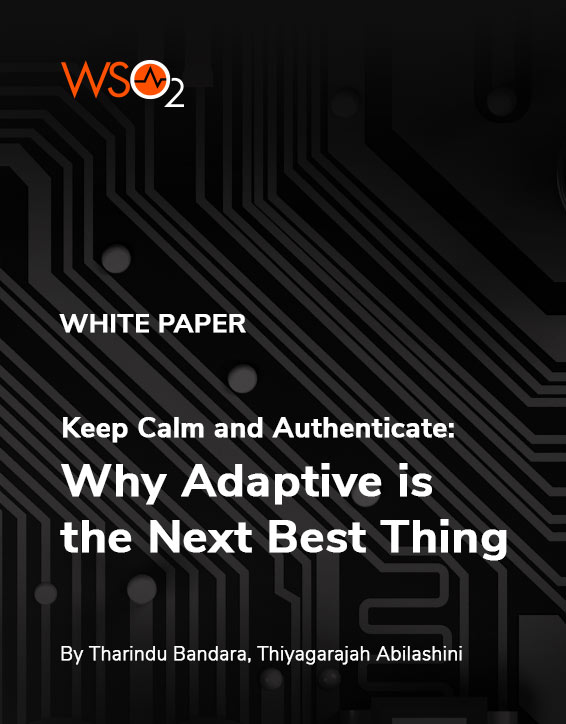 Read White Paper