WHITE PAPER
09/2017
Digital Transformation Through PSD2 and Open Banking
By Seshika Fernando
Head of Financial Solutions, WSO2
1. Introduction
Banking as we know it is changing rapidly and industry players are looking for new and innovative ways to keep pace. Traditionally, the global financial services market has been oligopolistic in nature. A 2016 study showed the "big four" retail banks in the US collectively hold 45% of all customer bank deposits totalling $4.6 trillion. And Europe is no different with a cluster of large banks like HSBC, BNP Paribas, and Crédit Agricole accounting for a larger percentage of total market share. When an oligopoly exists, those at the top define the market dynamics. They decide what services should be offered, the rate at which innovation should take place, and the consumer experience as well.
This, however, is changing at a rapid pace. Regulatory bodies, such as the European Banking Authority (EBA) are promoting a transparent, simple, and fair internal market for consumer financial products and services. The Australian Treasury too recently announced an independent review into open banking in Australia that will require banks to share product and customer data with customers and third parties with the consent of the customer.
As part of a larger vision, these regulations seek to ensure a level playing field in the financial industry that provides a shared chance of success for service providers and the best possible service offerings to consumers. As promising as this sounds for the industry's consumers and new entrants, this has become a major challenge for traditional banks that are now finding themselves becoming yet another commodity.
2. PSD2: The Imminent Threat
The EBA took the EU financial markets by storm in 2016 when it mandated that all banks operating in the region must be PSD2 compliant by January 2018. What this essentially means is that banks will be required to expose customer account and payment data to third-party providers with customer consent in a secure manner, with the main objective of creating a better integrated internal market for electronic payments within the EU (Figure 1). It seeks to open up payment markets to new entrants leading to increased competition, greater choice, and better prices for consumers.

Figure 1
Most European banks are up in arms about the introduction of PSD2 for many reasons. Firstly, it threatens to take away the sole ownership of customer data that banks enjoyed exclusively; this inculcates a justifiable fear of the bank becoming a commodity to the new providers of innovative payment services such as Account Information Service Providers (AISPs) and Payment Initiation Service Providers (PISPs). Secondly, the extremely aggressive timeline coupled up with the lack of implementation guidance by the regulator has resulted in confusion, leaving banks unsure of the immediate steps they need to take to be fully PSD2 compliant.
3. PSD2: The Opportunity
PSD2 is meant to shake the dynamics of the banking industry and pave the way to a new model of open banking. Any bank that embraces PSD2 as a stepping stone to the world of open banking (apart from considering it a compliance requirement), can reap the benefits of becoming a digital bank that caters to the data driven customer. These digital banks will provide new digital products and services, thereby adding new revenue streams and capturing market share from banks that failed to embrace digital transformation.
We have identified 5 key areas that will be impacted by the new model of open banking. The table below provides guidelines on how banks can transform the short-term implications of these key areas into long-term opportunities.
| | | |
| --- | --- | --- |
| Area of Impact | Short-Term Implication | Long-Term Opportunity |
| 1. Customer relationships | Loss of unique customer ownership being detrimental to loyalty and engagement. | Create more enhanced customer relationships by addressing the needs of the data driven and digitally motivated customer. |
| 2. Business Model and Identity | Disintermediation of financial services leading to banks no longer being sole service providers of banking. | Create an ecosystem that enables banks to provide services beyond traditional banking. |
| 3. Revenue | Loss of revenue from payment transactions and subsequent loss of customer revenue. | New revenue streams through digital initiatives, such as analytics driven insight, API monetization, and AISP and PISP services. |
| 4. Competitive dynamics | New entrants, such as Fintechs and AISP and PISP providers, taking over market share previously owned by banks. | Collaboration with Fintechs to provide AISP and PISP services as part of an extended offering. Ability to consolidate customer and non-customer data across all banks. |
| 5. Technology infrastructure | Adapt capabilities to expose data via APIs in a secure and controlled manner. | Build into a core business function supported by a fully fledged digital platform |
4. Leveraging PSD2 to Enter the New World of Open Banking
The new world of open banking is one where banks and financial institutions collaborate with other service providers to offer products and services that go beyond traditional banking and also help manage customer lifestyles. Figure 2 illustrates the typical journey of how a bank becomes a digitally transformed one through open banking.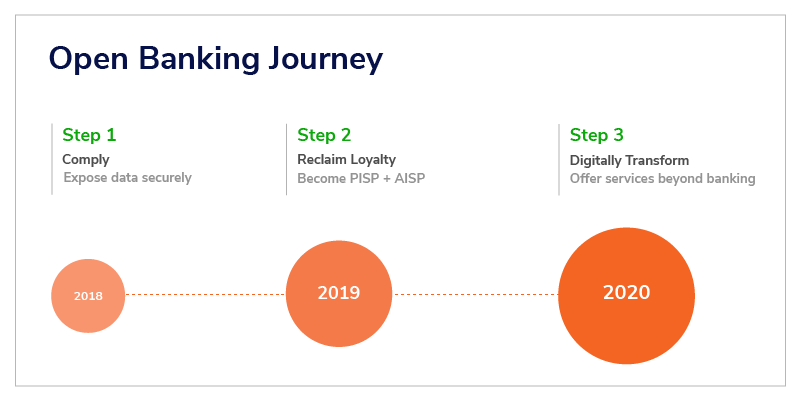 Figure 2
4.1 PSD2 compliance
The most basic requirement for PSD2 compliance is the ability to expose customer account and payment data through APIs in a secure manner. The API management tool that banks employ for this purpose should not only be able to secure APIs, but also provide Strong Customer Authentication (SCA) capabilities in line with the Regulatory Technical Standards (RTS) of PSD2. Banks should also be able to monitor API usage in real time in order to employ active throttling mechanisms that will regulate traffic according to infrastructure availability. In addition to fulfilling the regulatory requirement, banks can profit through PSD2 by monetizing API usage. When a bank becomes PSD2 compliant, it takes the first and necessary step in becoming a digitally transformed entity.
4.2 Offering third-party services
A survey conducted by Accenture for banking consumers in UK and Ireland showed that a majority (76%) prefer traditional banks to assume the duties of third-party service providers (TPPs) as trust remains essential when handling sensitive banking information.
Providing AISP/PISP services allows a bank to counter the negative implications of PSD2, such as loss of customer interaction and relationship. Banks can create a one-stop banking portal for customers with multi bank relationships to view account and transaction details. This service, combined with a financial management tool to automatically categorize transactions and enable budgeting, goal-setting and data visualization, would be a compelling customer proposition for this target market.
4.3 Digital transformation
The digital transformation of a bank can be built upon the rich resource of total financial information of all banking consumers within a banking ecosystem (e.g. the EU). Banks that offer AISP/PISP services gain access into this rich repository of total financial information of its customers spread across multiple banks, obtaining a much deeper understanding of its customer base than was possible before. Additionally, such a bank also receives consolidated financial data about its non-customers, thereby gaining valuable insights into market segments that the bank can eventually tap into and expand its portfolio.
Apart from gaining deeper insights into the bank's customers and noncustomers, the repository of customer financial data enables a bank to provide new products and services that will translate into new revenue streams for the respective bank.
4.4 Customer-centric services
When banks offer AISP and PISP services, it gains complete knowledge into a customer's consolidated financials that include assets and liabilities across multiple banks. This can be leveraged to provide new services that allow the customer to better manage their lifestyles as well as cash flows. Following are a few such examples:
Upselling and cross selling products based on customer's excess cash or forecasted credit shortfall obtained through current assets and liabilities and expected cash flows across multiple banks
Providing tools that enable managing cash flows and investments across multiple banks and thereby luring customers to continue relationship that would otherwise be lost to TPPs
Providing product recommendations based on deep customer knowledge, such as purchase trends and lifestyle patterns gained through customer payment information and consolidated account information
4.5 Business-centric services
The deep customer knowledge gained through consolidated customer financial information allows banks to analyze and aggregate data and provide business insights that are useful for other industries, such as retail, hospitality, transportation, telecommunication, and healthcare, among others. Banks can provide aggregate insights, such as trends, seasonalities, customer demographics, and even location analytics that help enterprises across different industries provide contextually relevant products and services to their clientele. This type of insights-based selling adds another new and lucrative revenue stream for the bank.
Apart from enabling the bank to reclaim lost loyalty, these new products and services help to add new revenue streams by going beyond traditional banking and becoming a lifestyle management partner to customers.
5. WSO2 Open Banking
WSO2 Open Banking provides all the technology requirements that banks need to become a digitally transformed financial enterprise. It leverages 5 key technology areas that are critical to a banking infrastructure - API management, identity & access management, integration, analytics, and IoT.
5.1 What does WSO2 Open Banking offer?
PSD2 compliance
API management platform for exposing data to third parties
API security and identity & access management that facilitates Strong Customer Authentication to adhere to the regulatory technical standard of PSD2
API analytics to monitor API usage and API monetization capabilities
Extending banking to offer PISP and AISP services
API integration to facilitate integration of APIs from several third-party providers
Federated user authentication with trusted banks under disparate identity protocols
Fraud detection to detect and alert anomalies in payment initiation transactions
API specific and data specific dashboards that provide different views of the consolidated financial data
Digital transformation partnership for banking beyond the norm
Web and mobile app suite that enables customer centric digital services
Insight sales application that provides capabilities to transform the customer data repository into business insights
Extensive analytics to collate data from various APIs and create products and services for insights-based selling
Platform capabilities to build complete technologies that seamlessly integrate with existing and new systems
A collaborative effort towards digital transformation that encapsulates all functions of an organization
If you would like to learn how WSO2 Open Banking can help digitally transform your bank, please contact us.
6. Conclusion
PSD2 is not received positively by most banks, and that comes as no surprise. It puts banks in a vulnerable position by taking away customer ownership and loyalty, which banks have competed on for several years. The key to looking at PSD2 and open banking as an opportunity, is to look beyond 2018. While banks may face initial challenges in their efforts to be PSD2 compliant, it can offer greater business benefits in the long term. Therefore, banks must recognize the wider scope and consider PSD2 as a digital transformation led opportunity that supports collaboration, intelligent selling, and business expansion. Eventually, these efforts will translate to greater customer loyalty and retention than ever before.
For more details about our solutions or to discuss a specific requirement contact us.