CASE STUDY
Australian Catholic University Enhances Student Experience and Improves Productivity Using Open Source WSO2 Platform
Leading Catholic University in Australia Provides a Seamless Experience Through a Student Portal Powered by WSO2 Technology
As in many industries, growing technology trends have students also expecting solutions to be at their fingertips whether it be through smartphones, mobile devices or computers. To address their growing demands, universities around the world are turning to provide seamlessly integrated solutions for their students.
Australian Catholic University (ACU), a public institution within the Australian higher education sector, is one such university. Established in 1991 following the amalgamation of four institutions with origins in the mid-1800s, ACU supports more than 34,000 students and more than 2,500 staff across seven campuses in three states. ACU is a publicly funded university, open to students of all beliefs, and teaches within the Catholic intellectual tradition.
"As part of ACU IT transformation we are enabling foundation blocks for digital and innovation capabilities of the university. The underlying enterprise integration platform is one of the critical components in the transformed IT ecosystem."
Niranjan Prabhu,
ACU Chief Information Officer and Director of Information Technology
ACU students learn to think critically and be guided by social justice principles. They are inspired to create an impact through empathy: bringing about change in their community, profession and industry. All students have the opportunity to study at the University's newest centre in Rome.
To enhance its students' academic experience, ACU has built an online portal that enables them to sign on once to access all the resources they need via their computers or mobile devices. The Student Portal consumes services from a backend platform, which was developed using the 100% open source WSO2 Enterprise Service Bus (WSO2 ESB) and Ellucian Ethos Identity, a single sign-on (SSO) identity and access management (IAM) solution for higher education that is built on WSO2 Identity Server. The solution serves as a first step in ACU's broader digital transformation strategy aimed at creating superior, collaborative experiences for students and staff, alike.
The Need for a Seamless User Experience
Since its inception, ACU has employed a number of different systems to perform various functions in the university, such as scheduling classes and exams and managing course registration. For years, these systems then provided the necessary information for students through separate interfaces, each having their own login. As a result, students found it difficult to keep track of all the relevant information that they needed to go about their day-to-day life on campus.
Over time, ACU started receiving an increasing number of student complaints, and the staff realized their students' productivity was being negatively affected. This led to the realization that they needed to aggregate all relevant information on events, schedules, announcements and course registrations into one single interface. Additionally, they determined that students should be able to move between the disparate systems, if required, without having to re-enter their credentials at each new interface.
"We needed a solution that met the growing demands of our student body and helped us become agile in the way we provide services," explained Vijesh Makanji, the application delivery manager at ACU. "The correct technology needed to be adopted in order to provide our students with the best experience as well as for us to remain competitive in our industry."
Choosing the Right Technology Partner
After conducting extensive architecture assessments on its requirements, ACU identified the need for a solution that would combine integration, SSO identity management, and content management. The ACU team evaluated several middleware vendors to determine which would best address their requirements. They considered several factors before coming to a conclusion. These include the credibility of the vendor and its ability to meet the university's functional requirements.
"What really helped us make the decision was WSO2's easy to use, scalable and lightweight products that was also very cost-effective compared to other vendors."
Vijesh Makanji
The evaluation led ACU to select WSO2 ESB and WSO2 Identity Server: "What really helped us make the decision was WSO2's easy to use, scalable and lightweight products that was also very cost-effective compared to other vendors," said Makanji.
Additionally, ACU chose the Sitecore Experience Platform (XP) as its content management component. ACU then implemented the solution, integrating WSO2 ESB, WSO2 Identity Server, and Sitecore XP together with its existing infrastructure with minimal disruption.
Student Portal Solution Architecture
The mobile-friendly ACU student portal brings together data from various disparate systems to provide a consolidated view of everything that is important for a student's day-to-day university life. It also sends out targeted student communications through notifications, announcements, and a news feed.
The user-facing portion of the student portal is based on the Sitecore XP content management system, which runs on Microsoft Azure Cloud. Behind the scenes, traffic from the student portal goes through an NGINX load balancer to a WSO2 ESB cluster which consists of four WSO2 ESB nodes in an active-active configuration.
"During implementation, the WSO2 architects engaged with us to ensure that all the technical fundamentals were employed, and the solution provided a sound platform to meet the University's ever growing needs."
Vijesh Makanji
The WSO2 ESB cluster serves as the integration layer of the solution. It interfaces with ACU's disparate legacy systems to provide service orchestration and synchronize data in real time. Data specific to each student is further aggregated to provide a complete, unified, information rich student profile. Additionally, the WSO2 ESB cluster is responsible for response caching, which reduces the load on the slow backend legacy systems and improves response times.
The Ellucian Ethos SSO solution, based on WSO2 Identity Server, serves as the central backbone for managing users' access. Each disparate system goes through the SSO server, which acts as the trusted party for authentication. An integrated Lightweight Directory Access Protocol (LDAP) user directory manages information about users and groups.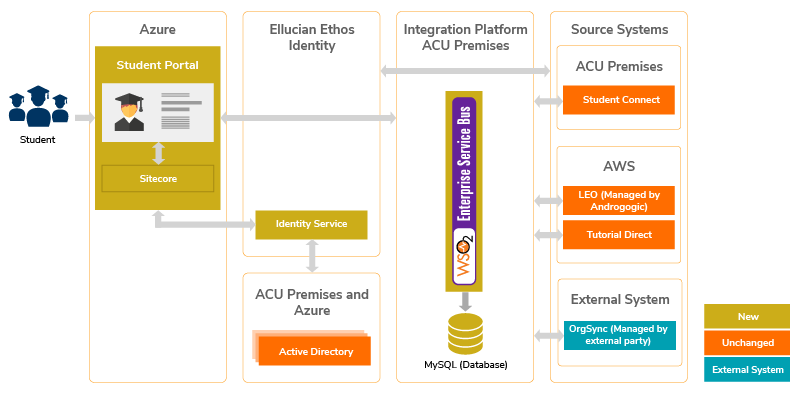 Figure 1
Both WSO2 ESB and the Ellucian Ethos SSO solution are deployed on-premises in a highly scalable and available manner in ACU's primary data center in Melbourne, which is managed by the ACU IT Directorate. An identical setup was created in its Sydney data center, which serves as the disaster recovery site.
"During implementation, the WSO2 architects engaged with us to ensure that all the technical fundamentals were employed, and the solution provided a sound platform to meet the University's ever growing needs," said Vijesh Makanji. "Our support subscription with WSO2 has also been working really well in providing any assistance we need with our system now that it's in production."
Easy Access to Student Information
The Student Portal was launched during the off-peak months of December and January. In the first few months alone, ACU has seen a high user uptake, 34% of which have been through mobile devices. Students spend over six minutes per session, which indicates that they are engaging with the content and adopting the portal for key parts of their daily lives at ACU. These positive statistics indicate improved usability and experience across all devices.
Equally important is the positive feedback ACU has received from students. Some comments include: "Very clear and self-explanatory", "Love the linking of the schedules and centralization of unit information for the academic year ahead," and "Pretty straight forward. Thumbs up."
Meeting ACU's Growing Demands
The Enterprise Integration Hub and IAM server are both serving as building blocks for future endeavours. With WSO2 ESB, ACU now has a central hub that provides a single platform for effectively addressing all of its integration needs. This will allow the university to respond to business needs faster by reusing its data and knowledge to deliver services quickly and in a cost-effective manner. By taking advantage of Ellucian Ethos' SSO functionality, ACU can enhance the user experience across all university applications making interactions seamless and hassle-free.
ACU also is currently evaluating WSO2 API Manager and WSO2's business process management functionality as a solution for effectively exposing its services as APIs externally and supporting asynchronous data processing.
"We strategically invested in this technical foundation," Vijesh Makanji explained, "Not just for the portal but also to support other digital transformation use cases that may arise in the future as we keep pace with rapid changes in technology, stay ahead of competing universities and provide a first-class user experience to our student community."