[WSO2Con USA 2014] Solution Patterns-Based Approach to Rapidly Create IoE Solutions Across Industries
Archived Content
This article is provided for historical perspective only, and may not reflect current conditions. Please refer to relevant product page for more up-to-date product information and resources.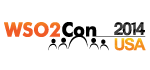 Presenter
Coumara Radja,
Director - Software Development, Cisco Systems

Coumara brings 30 years of experience in managing, architecting, leading, and building technology solutions across multiple industries. At Cisco, over the past 8 years, he has led the development of solutions for Sports & Entertainment, Healthcare, Logistics, Smart Cities, and led initiatives for Application Oriented Networking, Application Networking Services, and Internet of Things. Prior to Cisco, he has worked at startups, Intel, and Bell Laboratories.