Kubernetes and Docker Native Deployment Patterns for WSO2 Enterprise Integrator
Kubernetes and Docker Native Deployment Patterns for WSO2 Enterprise Integrator
Thursday, March 26, 2020
9:00 a.m. - 10:00 a.m. (PDT)
Container deployment is one of the most popular approaches in the industry. It helps you to move your code into different environments seamlessly.
This webinar will explore how you can write your integrations in a container friendly way and deploy it into the Kubernetes cluster. Discussion topics will also focus on k8s-EI-operator, the new project types introduced in WSO2 Integration studio, and how to integrate your project with CI/CD pipeline.
Presenters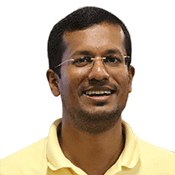 Indika is a Technical Lead in the Integration team at WSO2. He overlooks research and development related to the cloud-native features of WSO2Enterprise Integrator. He also provides technical consultation and training for designing and building integration solutions for WSO2 customers in multiple industries.
Sajitha is a Software Engineer in the Integration team at WSO2. He has a bachelor's degree in Computer Science from the University of Colombo School of Computing, Sri Lanka.