WSO2 IDENTITY SERVER NAMED A LEADER
KuppingerCole Leadership Compass: Identity API Platforms

We're happy to announce that WSO2 Identity Server has been named an overall leader, as well as a market leader, innovation leader, and product leader, in Kuppingercole's Leadership Compass: Identity API Platforms.
OVERVIEW
Owing to significant growth in digital transformation efforts, we anticipate an exploding endpoint problem in less than 20 years. As businesses increasingly expose their APIs, interactions between endpoints should be both meaningful and secure. WSO2's fully open source Identity Server not only acts as a key manager for APIs but also as an IAM platform that federates and authenticate identities, ensures privacy, and more.
Recognizing the need for identity APIs, KuppingerCole Analysts conducted market research on various identity API platforms to measure their capabilities, market presence, and innovativeness.
THE OVERALL LEADERSHIP RATING FOR THE IDENTITY API MARKET SEGMENT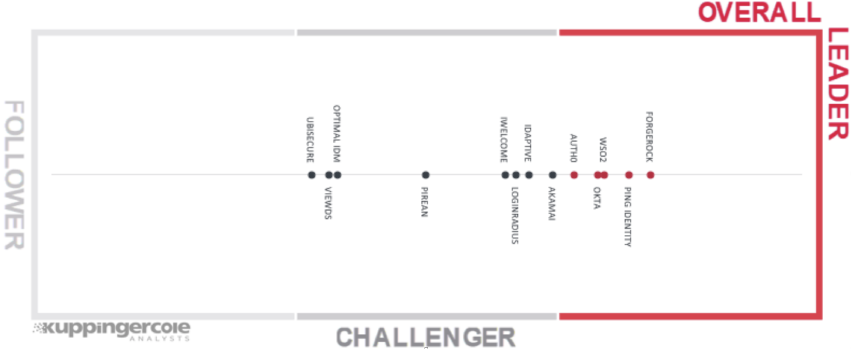 KuppingerCole Analysts, founded in 2004, is an international and independent analyst organization headquartered in Europe. The company specializes in offering neutral advice, expertise, thought leadership and practical relevance in Information Security, Identity & Access Management (IAM), Governance (IAG), Risk Management & Compliance (GRC), as well as all areas concerning Digital Transformation.
WSO2 IDENTITY SERVER
Open Source Identity & Access Management for Agile Businesses
LEARN MORE >