Archived Content
This article is provided for historical perspective only, and may not reflect current conditions. Please refer to relevant product page for more up-to-date product information and resources.

CASE STUDY

OPITZ uses WSO2 to Enhance MPK Kraków's Web-Based Information System for Efficient Service Delivery
Polish transport company provides drivers with Web portal integrating heterogeneous systems to ensure city's public buses run efficiently to serve over 1 million passengers per day
The second largest city after the country's capital Warsaw, Kraków is one of Poland's most important economic hubs. The population of the entire metropolitan area of Kraków totals some 1.5 million residents. The city, also a UNESCO World Heritage site, is visited by over 7 million tourists each year.
Delivering public transportation to complement this densely populated region is Miejskie Przedsiębiorstwo Komunikacyjne S.A. Kraków (MPK Kraków), the city's municipal transport service provider. Two years ago, MPK Kraków recognized the need to shift from manual, paper-based communications and provide its growing number of drivers with easily accessible, real-time information via the Web. To create this new system, the company brought in OPITZ CONSULTING Polska, a leading project specialist for custom-built applications and individual business intelligence solutions.
Today, MPK Kraków uses the Information System for Vehicle Drivers, built by OPITZ based on WSO2 middleware, to facilitate up-to-the-minute Web-based communications between the company and its employees. Highly available and efficient, the Web platform enables a smooth flow of operations to be carried out at vehicle depots. This in turn ensures less error-prone, on-demand transportation services to the public of Kraków.
'SOA-fication' of Existing IT Infrastructure
Each day, MPK Kraków serves some 1 million passengers through its modern fleet of over 350 fuel-powered and electric buses and trams. A total of over 2200 employees operate 137 day bus lines, 8 night bus lines, and 27 tram lines across the city.
Drivers require access to their schedules and up-to-date information on delegated routes and services. The former IT landscape of MPK Kraków comprised of multiple systems and applications, where several key enterprise resource planning (ERP) and domain systems support operations and business processes. All systems and applications being heterogeneous, ran on different platforms and databases.
With no access to these multiple systems, drivers were restricted to receiving information shared via bulletin boards and paper documents provided by their supervisors. This process was more error-prone due to miscommunications, and limited drivers from participating in any direct operational decisions.
These concerns led MPK Kraków to implement the Information System for Vehicle Drivers (Pol: System Informacji dla Prowadzących - SIDP). The key business goals of the SIDP were to facilitate communication between MPK Kraków and its employees, and to provide a Web platform accessible via the Internet. Information could then be shared, and selected operations could be conducted through planning and dispatch personnel at vehicle depots.
"WSO2 has given us the ability to present an innovative solution that could grow together with our customer's needs."
Piotr Cieślak,
Solutions Manager,
OPITZ CONSULTING
This also meant introducing a service-oriented architecture (SOA) based approach for systems integration at MPK Kraków. It would act as the first step toward a broader 'SOAfication' of the organization's IT infrastructure.
Implementing a Common Integration Platform
The ERP system used at MPK Kraków was implemented by global enterprise software vendor Industrial and Financial Systems (IFS), while the core system for transport planning and dispatch domains was delivered by IVU Traffic Technologies AG. Even though some systems and applications were integrated in order to exchange data, there was no common integration platform or enterprise service bus in place.
The SIDP platform was designed as a portal solution, with independent portlets providing functionality to end-users. Since the platform would be exposed via the Internet, an additional proxy layer with an HTTP server was also used.

Figure 1
The central component of the system architecture is WSO2's integration solution, which performs abstraction, mediation and translation, and acts as the intermediary between the portal and backend systems. Here, WSO2 Enterprise Service Bus (WSO2 ESB) and WSO2 Data Services Server (WSO2 DSS) are deployed, with the services configuration stored and managed in the local WSO2 Governance Registry.
WSO2 ESB acts as the intermediary between the portal and various backend systems. The ESB would handle incoming requests, carry out transformations and orchestrations if needed, and finally route the request towards a destination system or database. WSO2 DSS helps the ESB to route database related traffic by abstracting the data and operations available on this data as services, which are then invoked by the ESB within the mediation flows. Storing the common artifacts, governing the artifacts and providing registry services is done by the WSO2 Governance Registry.
"The SIDP system has made our company more lean, employee-focused and overall, more efficient."
Mariusz Wawak,
IT Director,
MPK Kraków
"Having in mind both customer expectations, and potential for the system to grow, our natural choice was WSO2, as it provided a complete stack of middleware products," stated Piotr Cieślak, solutions manager at OPITZ. "Apart from an ESB, WSO2 has given us the ability to present an innovative solution that could grow together with our customer's needs."
A Closer Look at the System Architecture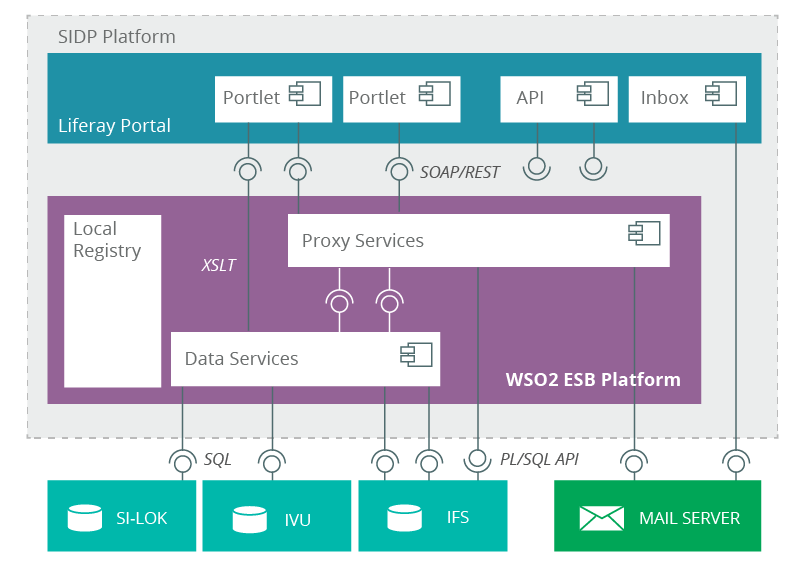 Figure 2
In this schema, the data and functionality of backend systems---such as IVU and IFS systems provided as database views or stored procedures---are exposed in uniform XML via data and proxy services in the WSO2 integration platform. These services and their operations correspond to the required data sets for the portal views, as well as API calls that invoke business operations and parameters.
In some cases, data output from services is transformed using XSLT to a format more adequate for portlet needs. In other cases, proxy services encapsulate data processing logic with custom sequences. Necessary data and services are exposed through the middleware platform as SOAP and REST services. WSO2 ESB processes notifications from the IFS system on any new, changed or deleted data, and then orchestrates necessary changes in the portal and dedicated mail server.
MPK Kraków also utilizes WSO2 ESB's automated document publication service. This extracts attachments from email messages sent to a particular inbox and automatically publishes them in a document repository using the portal's API.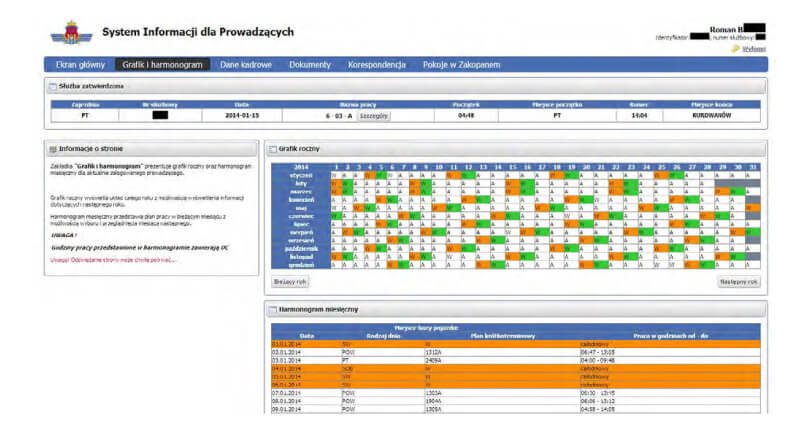 Figure 3: Screenshot of the System for Vehicle Drivers at MPK Kraków
During the first of two phases (Q4 2012 – Q1 2013), the SIDP platform was installed and configured with WSO2 ESB and the Liferay Portal, together with the first set of services, portlets and user accounts. The portal was officially launched for vehicle drivers in March 2013, providing basic features and access to information. The second phase (Q3-Q4 2013) expanded the portal functionality to deliver more advanced features, such as access to monthly payslips and HR-related data.
"Implementation was to our satisfaction, incredibly fast and flawless," Cieślak said. "Not only did the rapid application of WSO2 technology save our time through simple automation of many integration tasks, but it also provided ease of administration throughout the entire project, and even now, while it's running live. It was similar to a 'pointand-click' method, except that with WSO2 it was simply copy-and-run!"
A More Connected MPK Kraków Delivers Faster and Efficient Operations
A cross-functional team of OPITZ consultants and developers collaborated with the MPK team to implement the project. Bi-weekly status meetings involving all stakeholders, with prototype demonstrations as well as scoping, prioritizing and planning sessions helped both OPITZ and MPK Kraków to drive the project forward, sticking to a tight schedule and limited project budget.
Today, the transport company is realizing the advantages of introducing common SOA standards, patterns and best practices to its IT infrastructure:
With WSO2 middleware acting as the central integration layer, MPK Kraków utilizes reusable services and new business functionality to enable effective communication.
Information and functionality exposed by WSO2 ESB allows data provisioning for several custom-built portlets of the SIDP.
Depots perform faster and efficient operations in scheduling routes and dispatching drivers, decreasing headway between regular tram and bus rides.
Drivers maintain direct contact with the organization via email, reducing miscommunication errors, eliminating time-consuming paperwork and manual followup procedures.
Payslip details are also available based on authentication of user. Other accessible information include detailed fare plans, announcements (integrated with document library) and company notifications.
"As our mode of communication improved, so did the flow of operations" stated Mariusz Wawak, IT Director at MPK Kraków. "We were able to improve both speed and control over the flow of information, and thanks to a robust automation, better manage our core services. The SIDP system has made our company more lean, employee-focused and overall, more efficient."
MPK Kraków, with help from OPITZ, is looking to expand the WSO2 integration platform in the near future with WSO2 Business Process Server, to implement and deploy process oriented solutions and services. With the success of the SIDP System, the company also wishes to monitor key performance indicators for employees, bringing in the WSO2 Analytics Platform and API management solution.