API Management Driving Product Innovation in Dialog Axiata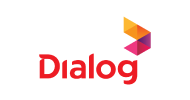 Industry:
Telecommunication
PROJECT
Dialog Axiata is the leading telecommunication operator in Sri Lanka providing telephone, Internet, television and wireless service provisions to over 9 million customers. Dialog Axiata prides themselves on being an innovative company and have achieved many endeavors including being the first operator to offer international roaming in Sri Lanka and the first to launch commercial operations of 3G in South Asia.
Ideamart is one of Dialog Axiata's latest innovations. With over 2500 members and 2900 applications, it provides a rapidly growing platform for both developers and non-technical users to engineer applications and services either from scratch or from existing templates.
REQUIREMENT
To create an online self-service portal that allows anybody to create services and applications while speeding up time-to-market, hence increasing the number of services launched per year.
SOLUTION
Dialog Axiata has integrated to their service providers through WSO2 API Manager's API Gateway by building custom handlers.
They have protected the end user's privacy by extending the API Gateway to send a token instead of the mobile user's MSISDN (Mobile Station International Subscriber Directory Number).
WSO2 Enterprise Service Bus and WSO2 Application Server was used to create adaptors to various network elements.
API monetization was achieved by leveraging WSO2 Data Analytics Server to build a framework that allows the rapid creation of billing models.
WHY WSO2?
WSO2's 100% open source middleware is both flexible and customizable making it the perfect choice for Dialog Axiata's distinct needs. Their in-house development team was able to use it freely without having any barriers to building prototypes and testing out scenarios. The ability to modify the software according to their own requirements was a huge game changer because the telecommunication market requires a platform that's goes beyond the traditional API management environment.