CASE STUDY

M-creations Delivers Mobile Payment Solution in Three Months Using WSO2 Carbon Enterprise Middleware
Using Lean, Integrated WSO2 Products, m-creations Delivered Mobile Phone Top-up Solution in Time for the Holiday Shopping Season
One of Germany's foremost payment technology providers is leading innovation in the European mobile market with its real-time user system for mobile phone top-ups. Designed to meet the demand for greater convenience in mobile payment services, the prepaid platform allows consumers to add phone credits in real time to their existing service plans via an easy-to-use application, the mobile Web, or conventional Internet.
The prepaid platform was architected by m-creations, specialists in mobile information processing, using the WSO2 Carbon enterprise middleware platform. By taking advantage of WSO2's highly configurable, fully componentized middleware, m-creations was able to develop the first stage of the platform in just three months, launching in time for the busy holiday season.
Today, the prepaid platform designed by m-creations takes advantage of WSO2 middleware to seamlessly integrate with multiple mobile platforms and deliver top-up features and incentives for prepaid mobile users across more than 20 German mobile phone network providers.
"We liked that the componentized WSO2 Carbon middleware would let us package everything up into one custom product that fully supports prepaid platform's business objectives. "
Kambiz Darabi,
m-creations managing director
Three Months to Meet the Holiday Shopping Season
The payment technology business approached m-creations in August 2012 to discuss building a new application as part of a prepaid platform focusing on mobile phone top-up. The team had a clear vision of the application, a well-defined set of expectations — and a hard deadline to launch in three months to meet the holiday shopping season. The business knew that m-creations had been delivering mobile payment solutions for several years, and it was counting on the company to leverage that expertise to achieve a quick turnaround.
"For our customer, the initial general demands for the new application system were quite simple. It had to enable prepaid mobile users to add more minutes to their account in real time via any Internet access channel. It also had to be easy to use, with no requirements to register and no barriers to startup," recalled Kambiz Darabi, managing director at m-creations. "For us, the challenge wasn't executing the customer's vision; it was getting the application to market by the start of November."
Facing just three months to deliver the solution, m-creations realized the need for a highly configurable and flexible middleware platform that would minimize the need for programming workload. Additionally, the more pre-integrated features the middleware platform could provide, the more m-creations could focus on actual application development, rather than integrating and updating services.
"With a such short time to market, we knew we wouldn't be able to build the entire solution from scratch," said Mr. Darabi. "Therefore, we needed our base middleware to provide as many features as possible, not only for publishing services, but also for eventually managing those services as the initial application evolves into the full prepaid platform."
Componentized and Configurable: The WSO2 Advantage
The platform considerations supported m-creation's decision first to evaluate and then to implement WSO2's lean, open source Carbon middleware as the basis for the platform's application framework. Fully componentized and OSGi-compliant, the WSO2 Carbon platform encapsulates service-oriented architecture (SOA) functionality, such as data services, business process management, enterprise service bus (ESB) routing and transformation, and rules and security into a suite of fully integrated products that plug and play together.
"We liked that the componentized WSO2 Carbon middleware would let us package everything up into one custom product that fully supports prepaid platform's business objectives," Mr. Darabi explained. "We also saw that this would allow us to pick the products we need today with the confidence that we could add other functionality to support future goals as needed."
The comparatively small footprint of the WSO2 Carbon platform also helped to address the prepaid platform deployment demands for software that could run entirely on two hosted Linux servers.
All Carbon products share common services for enterprise-class management, security, clustering, logging, statistics, and tracing, among other capabilities. The ability to eliminate redundancy through this approach has resulted in the entire WSO2 Carbon platform requiring less than 500 MB of memory to run.
Beating the Clock with WSO2
Based on its evaluation of WSO2, m-creations decided to implement four WSO2 Carbon products to support Phase 1 of the prepaid platform project: WSO2 Data Services Server (DSS), WSO2 Enterprise Service Bus, WSO2 Application Server, and WSO2 Identity Server. Additionally, the company used Jaggery, the pure JavaScript server-side scripting engine created by WSO2, to speed up development.
WSO2's pre-integrated middleware products provided the time-saving advantages that m-creations predicted, as did the configurability of WSO2 ESB. Collectively, these features eliminated days of integration and coding that otherwise might have been required.
"We could concentrate on interfaces to the outside world payment providers and to the top-up service providers because the technical architecture layers to build the system were prebuilt with WSO2's middleware," Mr. Darabi noted. "It has been the classic advantage of buy over build."
Significantly, m-creations discovered a third advantage during the development process: WSO2's testing capabilities.
"We were able to deliver an innovative solution for our customer in a remarkably short time because we worked with WSO2's middleware. "
Kambiz Darabi,
m-creations managing director
"The testing abilities provided by WSO2 have given us opportunities to quickly test whether an idea works or not and make quick modifications when necessary," Mr. Darabi explained. "We don't have to wait for a whole new software life cycle because WSO2 lets us put the program inside the server and see immediately what is happening."
Using WSO2's software, m-creations met the three-month project deadline, and in early November 2012, Phase 1 of the prepaid platform project was up and running.
"For the first stage of this project, the most important thing was being able to meet the deadline and coincide with the start of the holiday shopping season," said Mr. Darabi. "WSO2 did just that; it was amazing and would not have been possible with any other platform."
From Concept to Deployment: Prepaid Platform Phase 1
Today, the prepaid platform mobile solution enables the German payment technology provider to stand out in a competitive market by competing on innovation rather than price alone. Air time for more than 20 German mobile phone network providers can now be purchased through the platform, which offers consumers of prepaid mobile phones a number of advantages, including:
Free account summary and a display of currently available prepaid mobile phone credit.
Hassle-free top-ups for prepaid mobile phones; no registration required.
Real-time top-ups, 24x7 and 365 days of the year.
"For customers who have traditionally only had the option of recharging at stores, the prepaid platform presents a simpler solution," said Mr. Darabi. "Now customers can use the mobile application directly on their phones without having to enter voucher card information and a pin number, making it easier to top up than ever."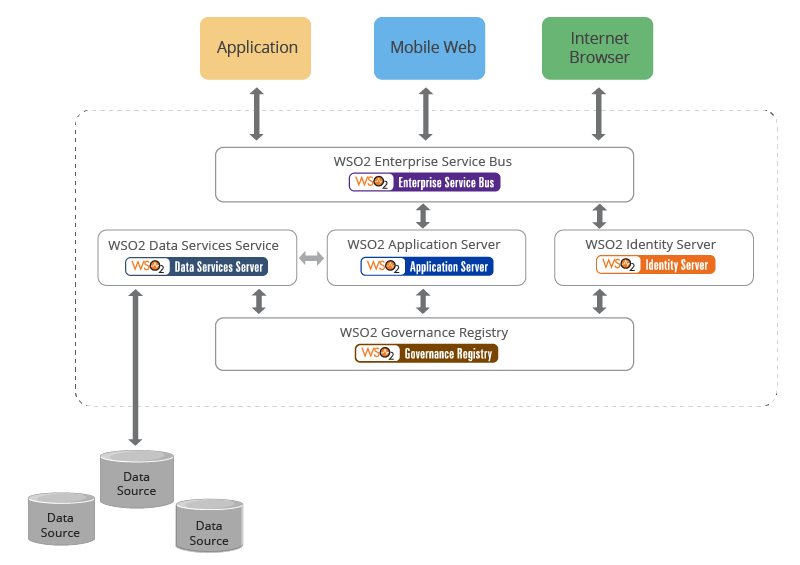 The prepaid platform for mobile telecom built by m-creations is based on WSO2 Carbon middleware products running as virtual machines on a cloud powered by Linux servers.
Behind the scenes, WSO2 middleware provides the underlying architecture on which the prepaid platform runs. The Web applications are hosted on a WSO2 Application Server cluster that consumes a range of APIs exposed as SOAP and REST services. In parallel, WSO2 Data Services Server is used for providing the front-end applications a unified and decoupled services layer for interacting with back-end data stores.
Residing between the application and services layers, WSO2 ESB provides service proxies and message transformations for front-end applications. WSO2 Identity Server is used for securing the message channels while providing user authentication for the service consumers. The cross-cutting service metadata and shared assets are stored inside the WSO2 Governance Registry, enabling the platform components to integrate through different delivery channels.
All of the WSO2 Carbon servers run as virtual machines on a cloud with two hosted Linux systems.
"We designed the prepaid platform on a WSO2 base because it offers flexibility and components that we can add," Mr. Darabi said. "We stand by that decision today; the quality of the end project — a completely new product — was incomparable."
Looking Ahead: Prepaid Platform Phase 2
In the months since the prepaid platform's initial release, m-creations has largely focused on using WSO2 middleware to make enhancements to the current system. A new help desk module and an administration module have been implemented, with both making extensive use of WSO2's Jaggery for dynamic JavaScript development.
With the resounding success of the prepaid platform's mobile app deployment and release, the German payment technology provider has confirmed that it will continue working with m-creations for Phase 2 of the project. m-creations will now support the prepaid platform expansion from mobile application to prepaid platform showcasing direct partners and white label solutions.
"As mobile service system developers, a success story for us is defined by our ability to meet the deadline and time frame," Mr. Darabi noted. "We were able to deliver an innovative solution for our customer in a remarkably short time because we worked with WSO2's middleware. We look forward to expanding our use of WSO2 as we build on this success."